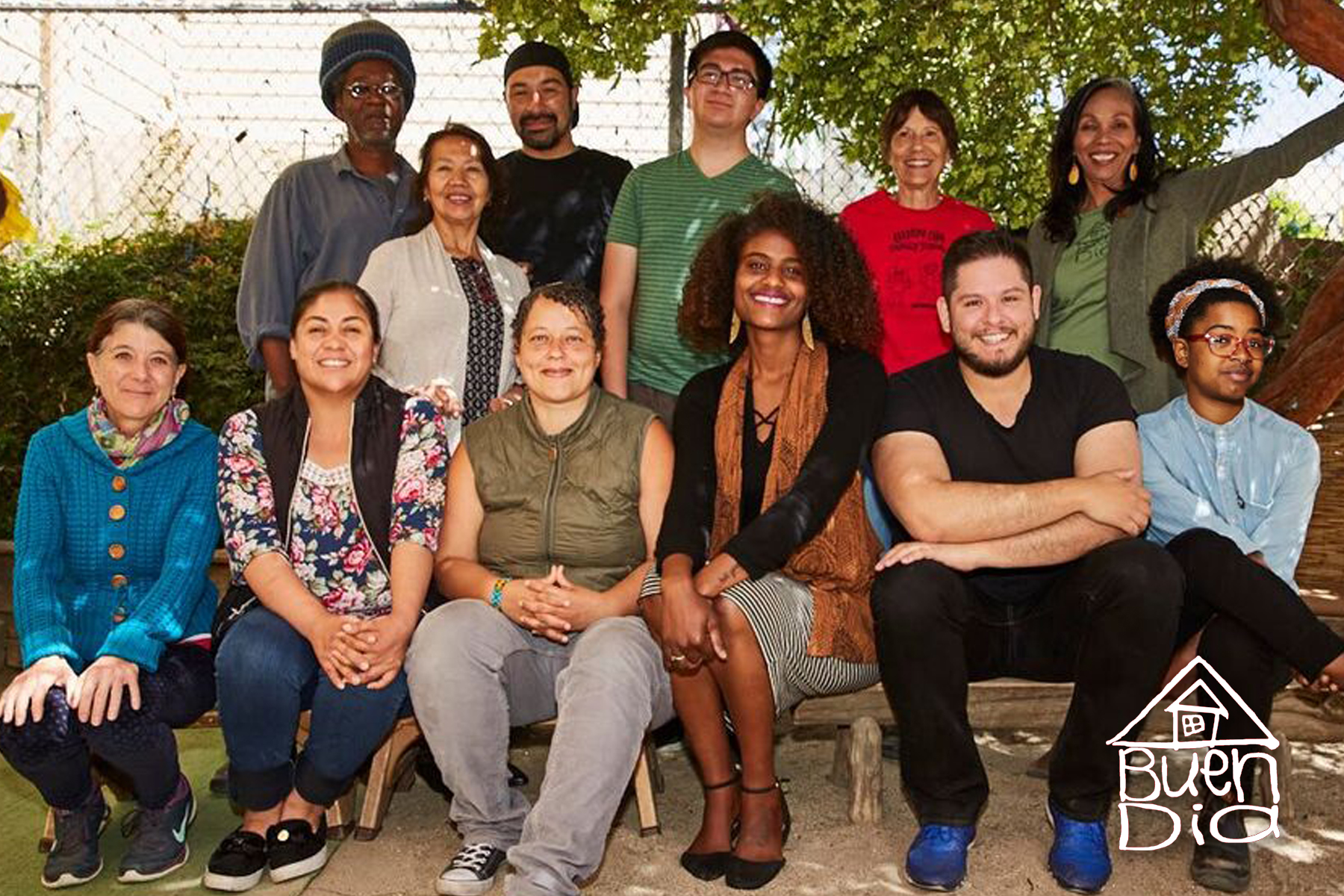 Buen Dia's Mission
Buen Dia Family School was founded in 1977 and offers an arts-focused program with a Spanish bilingual component serving preschool age children. A developmental learn-by-doing curriculum is central to the school's mission of empowering children to meet their potential, encouraging individual expression and enhancing self confidence. A primary goal is to provide opportunities for positive interactions, personal discovery and active exploration. Buen Dia strives to foster a family atmosphere that respects children and enhances early learning experiences with the guidance of thoughtful teachers.
Philosophy & Goals
At Buen Día Family School, the teaching staff form relationships with each family that empowers the child and promotes self-esteem. We feel that if children learn to see themselves as competent individuals in these early years, they will be confident and better able to meet the challenges presented in everyday life.
Buen Dia's philosophy emphasizes the value of self-esteem, the importance of personal discovery, and the respect for individual differences -- notions that are especially critical in San Francisco, where a majority of families (according to San Francisco Unified School District) are non-traditional and where there is great ethnic diversity. We believe that young children begin to develop awareness both of differences and of socially prevailing biases by the time they are three. With this in mind, Buen Día is committed to providing a flexible curriculum responsive to the needs of children. Although there are structured activities during the day, we encourage children to explore their environment in their own way that is closer to the basic nature of early learning.
As teachers we examine our own perceptions and attempt to interact with children in an open and accepting manner. A primary goal is to take collective responsibility for the children's growth and development. We respect the experience of each child and center our curriculum on the ideas and interests of the children.
Board of Directors
Jim Quadra, President

Barbara Iungano

Rachel Caldwell

Annelise Goldberg

Peter Goggin- Treasurer

Dan Schwarzlander

Elizabeth Rood

Adelina Arcelona

Yvonne Gavre

Omar Khan- Board Consultant
Buen Dia Corporation
Buen Dia Corporation was founded in 1977 for educational and artistic purposes and is a 501(3)(c), tax-exempt organization. The Mission of the corporation is to pioneer innovative, developmentally-appropriate educational practices and to embrace a diversity of culture and thought for children, youth and families. The heart of the organization is an arts-focused preschool with a Spanish-bilingual component that provides a setting where children and their families can flourish. Other priorities include community outreach projects in the areas of early childhood education, mental and physical health, nutrition, the creative arts and other related fields.
Buen Dia DVD
This documentary shows the process of starting an innovative preschool in 1977 and how it continues to celebrate play.
Buen Dia Family School began as a dream of two women educators who wanted to create a nurturing environment for young children, one that allowed children to make their own choices, participate in their own learning and build self-confidence in their own abilities - a place that young children can call home and where they can be themselves and have fun.
The school was an organic outgrowth of the energy and values of the people who helped to create it. Artists were attracted to this learn-by-doing approach and became part of the early teaching staff, adding their expertise to the curriculum.
Within a multicultural setting, a Spanish bilingual component developed, enriching the experience of young children in the classroom.
This art-focused tradition still thrives today at Buen Dia as teachers, artists, parents and the children work together to stimulate imagination, creativity and critical thinking skills. This film is a portrait of a unique children's school and is meant to inspire people interested in early childhood education.
Buy the DVD - $30